National Award-winning Fashion Designer Wendell and his partner Jerome Marrell are converting their old Goan Home into a repository of heritage. Here's an exclusive first look at their plans …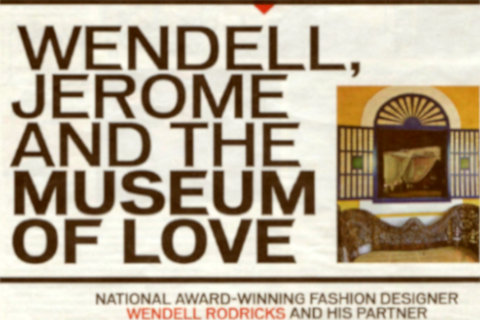 I do not know a more romantic couple than Wendell Rodricks and Jerome Marrel. I realised this when I visited them a few years ago. It had been an unusual birthday gift: an invitation to stay with them, accompanied by a plane ticket. We landed at almost the same time, from different flights, and drove off from the airport. "A small detour, I hope you don't mind," Jerome said, eyes a-twinkle, as the car turned towards the beach. And there, fanned by the soft October breeze, sandwiched between the blue of sky and sea, we sat under a shady tree to have the most amazing open air lunch I can remember. And no, it was not in my honour. For Wendell and Jerome, detours like this are a part of most trips home from the airport. I found it terribly romantic. Contrary to popular  culture that imagines romance in obvious and public displays of affection, this is a romance that runs like an undercurrent through their daily lives. It translates into always being there for each other, in helping dreams become reality, in debating and agreeing. Between their natures, there are enough points  of difference to create polarities. Instead, their differences complement each other. If Wendell is the dreamer, Jerome is the pillar he can build those dreams on to. If Wendell is close to the earth, Jerome flies high.
It keeps the excitement of the relationship at full throttle, making every event a celebration. So Jerome books tickets on the Concorde to celebrate Wendell's passing with honours from a Los Angeles design school, books a cruise to sail them to exotic lands, lights up the house with candles of every kind when Wendell returns from a trip, or quietly ensures the less flamboyant but very important task of sending out passes for Wendell's shows is taken care of. Wendell on his part has welded his life so closely with his partner's that he dreads "to be left alone without Jerome in my life."
Home is home
It took years after they found each other, for them to settle down together. There were years of partings and meetings as each pursued his chosen line. Sometimes Jerome would drop all he was doing to move to where Wendell was; at other times, Wendell made sure he travelled to join his partner. At one point, despairing of ways to keep the long distance relationship alive, he threw up his assignments in Mumbai and shifted to Istanbul where Jerome was stationed.
The Moda Goa museum is not just a project. It is the culmination of an enduring partnership that began as a blind date… and has stood the test of time…
The house, they welcomed me to soon after my birthday that year, is a grand old house with a story of its own. A house that fascinates all their guests; the result of serendipity. The story of how he dreamed, while living and working in Muscat, of the house in vivid detail is one Wendell loves telling. He had walked past the Casa in his village of Colvale many times,  never venturing in, but the dream had him wandering through the high ceilinged rooms, and up the steep stairs, turning onto the verandah, and back again.
His mother, on hearing his dream, took him to the matriarch who owned the Casa. "We became friends," Wendell says, "And one day her daughter called to say her mother wanted to sell the house to me, and no one else." The price was "what I could afford", so he borrowed what he could to add to what he had, and the house changed hands. Adding value to the meagre price was the promise that he would never break down or sell the place, because the owner had spent much of her life in it; it was a repository of her memories.
The house ensured that after their wanderings in many places across the globe, Wendell and Jerome at last came home. They would spend 23 years in the house, sharing it with dogs and cats, and visitors, including relatives and friends as well as the passing curious. A well-lived in, much-loved home that reflected their tastes and was a statement to their hospitality.
Then, early this year, the couple moved out. And that is another story that Wendell tells best. "Many things came together to influence my decision," he says. "I am on the threshold of senior citizenship, Jerome is already 62, and we wanted to downsize. To find a home that made fewer demands on us and was more compact." News of their intention to move travelled quickly; soon they were looking at "an obscene offer of a million dollars" for the place.
"I realised then that selling was not an option. Anyone spending so much would want to tear down parts, extend and build over or along the original walls. And I had given my word that I wouldn't let that happen," Wendell says.
At the back of his mind was another idea. Ever since he worked on the Moda Goa coffee table book, and realised the wealth of Goan history, Wendell had planned to create a museum and started collecting artefacts. "I realised I  did not have to continue looking for the ideal museum space; I could convert this house into one. It would need a lot of work, but it would do fine."
Serendipitously, a friend living abroad happened to visit and mention his house lying vacant. Serendipitously, it was also in Colvale. "We offered to rent it," Jerome says, "But I told them I wanted to make some changes, and build a swimming pool, create a lawn and a garden." The friend agreed. The couple had found their new home.
House of style
Three years after my birthday trip, I am at their home again. The new home, which Jerome has fitted with blue windows has a lawn that invites you to sprawl. The bedrooms number only two, but I am told there is a bed ready for me, and I can see the gently floating mosquito nets on the four-poster that had been mine in one of the three guest rooms of the earlier house.
The table is set for lunch, and Jerome waits while I repair to his partner's studio to take notes and chat about their lives and new developments.
Wendell is completely carried away by the dream of the Museum. He plans it not "as a hole in the wall," but an international status museum of fashion, which will also showcase Goan heritage. To this end, he has an ongoing appeal for Goa related exhibits. "The response has been amazing," he says." I have received objects so rare and precious, any museum would be proud of them." Among them, a gold and ivory fruit paring knife, a hand-stitched wedding dress and silken hand-made shoes gifted by a 99- year-old, along with photos of herself as a bride and of her husband, all proud in a top hat. Jewellery, golden objects of worship, altar pieces are already in his collection, and furniture, as well as artisan tools, sculpturea, and 400 rosaries including one made of clam shells. He plans to add some of his own treasures: an old Louis Vuitton letter opener, a Cartier chain, a 50-year-old altar plus a main altarpiece bequeathed by Geeta Simoes.
Even as he dreams of how the spaces will be divided, Jerome is getting the insurance and the required permissions in motion, adding the solid foundation that every dreamer requires.
Bringing to his new project the gravitas and purity his brand has acquired over the 30 years of his designe journey, Wendell is sparing no cost or effort in creating a world-class space. The goodwill the couple has built over the years makes him sanguine that he can recruit other designers to aid him.
"I can ask Abraham and Thakore to recreate a slave's indigo scarf from a photo, or Ritu Kumar to make a replica of a christening dress now in Lisbon. Sabyasachi, Anita Dongre, Muzaffar Ali…they can add so much," he says. "Jerome adds so much. We've travelled through 150 countries and his memory is so sharp, he will say, 'let's do this corner in a Pan  African way, Iike we saw in the bush,' or something else that seems perfectly fitting, yet exotic."
I listen to him, and suddenly the museum idea comes alive, and takes a new meaning. The Moda Goa Museum project is not just a project. It is the culmination of many years of togetherness, a milestone to mark an enduring partnership that began as a blind date in Muscat more than three decades ago, evolved into a formal legal status that runs parallel to a marriage contract, and has stood the test of time to remain fresh and involved. This is the couple's biggest together- project, what they will create for posterity. A living, growing symbol of a relationship that has never faded.
By Sathya Saran. Photo: Prabhat Shetty.
From HT Brunch, June 25, 2017