Designer Wendell Rodricks talks about his latest magnum opus – India's first costume museum, the artifacts in it and his connection to Colvale, Goa.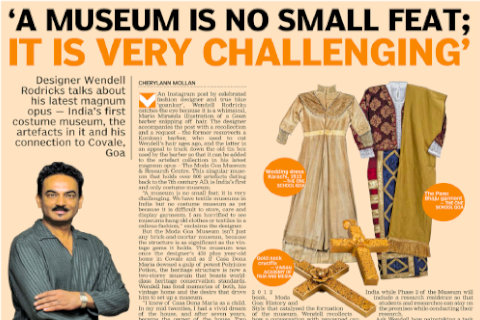 An Instagram post by celebrated fashion designer and true blue 'goankar', Wendell Rodricks catches the eye because it is a whimsical, Mario Miranda illustration of a Goan barber snipping off hair. The designer accompanies the post with a recollection and a request – the former resurrects a Konkani barber, who used to cut Wendell's hair ages ago, and the latter is an appeal to track down the old tin box used by the barber so that it can be added to the artefact collection in his latest magnum opus – The Moda Goa Museum & Research Centre. This singular museum that holds over 800 artefacts dating back to the 7th century AD, is India's first and only costume museum.
"A museum is no small feat; it is very challenging. We have textile museums in India but no costume museum as yet because it is difficult to store, care and display garments. I am horrified to see museums hang old clothes or textiles in a callous fashion," exclaims the designer.
But the Moda Goa Museum isn't just any brick-and-mortar museum, because the structure is as significant as the vintage gems it holds. The museum was once the designer's 450 plus year-old home in Covale and as if Casa Dona Maria downed a gulp of potent Polyjuice Potion, the heritage structure is now a two-storey museum that boasts world-class heritage conservation standards. Wendell has fond memories of both, his vintage home and the desire that drove him to set up a museum.
"I knew of Casa Dona Maria as a child. In my mid twenties, I had a vivid dream of the house, and after seven years, became the owner of the house. Two years ago, we (Wendell and his partner, Jerome Marrel) decided to make the museum in the house. The house was just too big for two people, so we decided to leave it as a legacy for Goa and India," reveals Wendell. Although this decision shocked some of his friends, Wendell says that he remained resolute, and moved to a smaller house in the village so that work on the museum could commence. "I felt no sorrow to move out. But I did feel strange that we had a large, airy house and now, it would be shut down totally to make it humidity and temperature controlled," says Wendell. Architects Arvind and Nita D'Souza were roped in to convert the four-bedroom home into a museum with 16 galleries.
The Moda Goa Museum's 16 galleries offer visitors a deep dive into Goa and the Konkan's culturally significant past, while also helping you understand how it has, and continues to, shape its present.
But apart from the desire to leave behind a legacy for the people of Goa, it was the designer's 2012 book, Moda Goa: History and Style that catalysed the formation of the museum. Wendell recollects how a conversation with renowned cartoonist Mario Miranda started him off on a decade-long quest that resulted in a book, and eventually, this museum. "Mario Miranda asked me to research the traditional Pano Bhaju garment (a nine-yard sari worn with a heavily-embroidered blouse) and that set off the ten year-journey to research the entire costume history of Goa. This research resulted in the book Moda Goa, and while working on it, I started collecting objects. Writing the book also took me to two internships in museums in Lisbon and New York and it was there that it struck me that it could be possible to open a museum in Goa after the book was done," shares the designer.
And what was merely a possibility is now an actuality, as the Moda Goa Museum's 16 galleries offer visitors a deep dive into Goa and the Konkan's culturally significant past, while also helping you understand how it has, and continues to, shape its present. Various artefacts, photographs, illustrations as well as costumes, textiles and jewellery give one an overview of important Goan festivals, rites of passage, significant revolutions and pays homage to Goa's multicultural spirit. There is also an expansive gallery that holds paper jewels from the designer's private book collection. Wendell says that the research centre will encourage research on topics related to Goa and India while Phase 2 of the Museum will include a research residence so that students and researches can stay on the premises while conducting their research.
Ask Wendell how painstaking a task artefact collection was and he says that the treasure hunt was actually fulfilling and enjoyable, and that he is grateful to the Goans in India and oversees, who enthusiastically contributed towards the project. "All the objects donated are special to me because they were given with such generosity of spirit. Whether they are old books or garments, there is a genuine attachment and affection the Goan people had with the objects. A 90-year-old lady gave me her wedding dress; ladies donated saris. It touched me deeply that they were parting with family heirlooms," says Wendell. He also mentions how he acquired the garment that started it all; "We got an exquisite Pano Bhaju from Lisbon that is almost a hundred years old. It is in mint condition. The lady preserved it with much love as her mother got married in the garment."
By Cherylann Mollan
From The Asian Age, April 15, 2019